Baths, spas and wellness centre after skiing.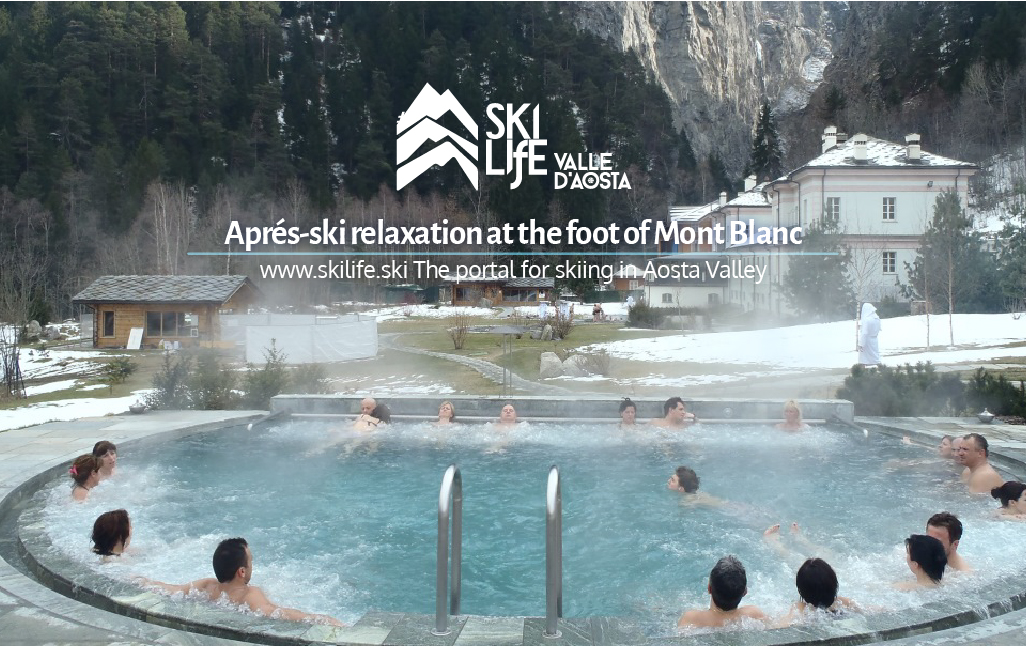 Worries and stress will disappear on receiving the warm welcome from the people of Valle d'Aosta and immersing in the explosion of Alpine nature by exploring the territory and pursuing outdoor sports, or even just by contemplating the glorious scenery of the mountains. Wellbeing can be taken to even higher levels by going to the spas where you can relax in the warmth of the healing waters even in the depths of winter.
For instance, the Terme di Pré Saint Didier – in a charming 19th building – embodies the essence of absolute relaxation, helped by the tranquillity that only an imposing mountain such as Mont Blanc can provide. The garden of the spa has three external thermal baths and saunas in wooden huts, with panoramic windows overlooking the mountain chain. These spa waters have been known since Roman times for their beneficial properties, and for years the site was the preferred spa resort of the Savoy royal family.
At Saint-Vincent spa, the original treatment centre has expanded to include a modern, sophisticated and elegantly designed wellness centre. There are three indoor pools and an external panoramic pool where the water is kept at 36°C. The Saint-Vincent mineral water spring, discovered in 1770, was called Fons Salutis for the healing properties of its waters. The Saint-Vincent spa is National Health Service accredited.
In addition to the two spa centres there are also wellness centres and spas within hotel facilities: great attention has been paid to integrate the modernity required by sport and wellness amenities into a setting in which traditional materials maintain the style of traditional architecture. Wellbeing of mind and body can be achieved through various pleasurable experiences: swimming pools, whirlpools, sensory showers, Finnish sauna, Turkish bath and sundeck areas. Other services offered, usually by booking, are various types of massages and beauty treatments depending on the centre. For instance, the spacious and extensively equipped Monterosaterme of Champoluc wellness centre in Ayas Valley (which also has a fitness area, conference rooms) where large windows offer relaxing views for those waiting to be pampered with a variety of treatments.