Consecutive days valid in all ski resorts of the Aosta Valley without limitation including La Rosière (F) and Alagna (VC)
SEASON RATES
from 14/10/2023 to 06/12/2023 from 11/12/2023 to 22/12/2023 – from 08/01/2024 to 26/01/2024 and from 11/03/2024 to 05/05/2024

Full

<8 y.o.
if concurrent

<8 y.o.
if NOT concurrent

8/14 y.o.

14/18 y.o.
SENIOR >65 y.o.

GROUPS **
(min. 20 pers.)

3 days

€ 181,00

Free*

€ 45,00

€ 127,00

€ 159,00

€ 163,00

4 days

€ 236,00

Free*

€ 59,00

€ 165,00

€ 208,00

€ 212,00

5 days

€ 287,00

Free*

€ 72,00

€ 201,00

€ 252,00

€ 258,00

6 days

€ 332,00

Free*

€ 83,00

€ 232,00

€ 292,00

€ 300,00

7 days

€ 374,00

Free*

€ 94,00

€ 262,00

€ 329,00

€ 337,00

8 days

€ 415,00

Free*

€ 104,00

€ 290,00

€ 365,00

€ 373,00

9 days

€ 455,00

Free*

€ 114,00

€ 318,00

€ 400,00

€ 409,00

10 days

€ 494,00

Free*

€ 123,00

€ 346,00

€ 435,00

€ 445,00

11 days

€ 530,00

Free*

€ 132,00

€ 371,00

€ 466,00

€ 477,00

12 days

€ 564,00

Free*

€ 141,00

€ 395,00

€ 496,00

€ 508,00

13 days

€ 595,00

Free*

€ 149,00

€ 416,00

€ 524,00

€ 535,00

14 days

€ 623,00

Free*

€ 156,00

€ 436,00

€ 548,00

€ 561,00
HIGH SEASON RATES from 07/12/2023 to 10/12/2023 from 23/12/2023 to 07/01/2024 and from 27/01/2024 to 10/03/2024

Full

<8 y.o.
if concurrent

<8 y.o.
if NOT concurrent

8/14 y.o.

14/18 y.o.
SENIOR >65 y.o.

GROUPS **
(min. 20 pers.)

3 days

€ 196,00

Free*

€ 49,00

€ 137,00

€ 172,00

€ 176,00

4 days

€ 258,00

Free*

€ 65,00

€ 181,00

€ 227,00

€ 232,00

5 days

€ 312,00

Free*

€ 78,00

€ 218,00

€ 275,00

€ 281,00

6 days

€ 362,00

Free*

€ 91,00

€ 253,00

€ 319,00

€ 326,00

7 days

€ 411,00

Free*

€ 103,00

€ 288,00

€ 362,00

€ 370,00

8 days

€ 458,00

Free*

€ 115,00

€ 321,00

€ 403,00

€ 412,00

9 days

€ 501,00

Free*

€ 125,00

€ 351,00

€ 441,00

€ 451,00

10 days

€ 542,00

Free*

€ 136,00

€ 379,00

€ 477,00

€ 488,00

11 days

€ 580,00

Free*

€ 145,00

€ 406,00

€ 510,00

€ 522,00

12 days

€ 617,00

Free*

€ 154,00

€ 432,00

€ 543,00

€ 555,00

13 days

€ 654,00

Free*

€ 164,00

€ 458,00

€ 575,00

€ 589,00

14 days

€ 684,00

Free*

€ 171,00

€ 479,00

€ 602,00

€ 616,00
* The FREE PASS for <8 years old will be applicable only when an adult or a young < 18 y.o. buys a full price ski pass of an equal or longer duration in other cases the <8 years old if NOT concurrent will apply

**GROUP PRICES.
To receive the group discount, it is obligatory to book at least 3 days before with AOSTA VALLEY SKIPASS service or with the cash desk at the ski resort.
The group price applies for a minimum of 20 paying clients.
For GROUPS there is one FREE pass every 25 sold (25+1)
---
To establish the right to age reduction see the "Useful Information" page.
---
You can purchase the "SNOW CARE" ski insurance at a price of € 3,00 per day (reduced price to € 1,50 for children under the age of 8), along with any Aosta Valley multi-day ski passes both for consecutive and NON consecutive days, and any international ski passes.
The first aid service on the pistes is a pay for service: any intervention will have a cost of € 200,00.
CHECK IF YOUR INSURANCE COVERS THE PERFORMANCE, OTHERWISE BUY THE "SNOWCARE" INSURANCE TOGETHER WITH YOUR SKIPASS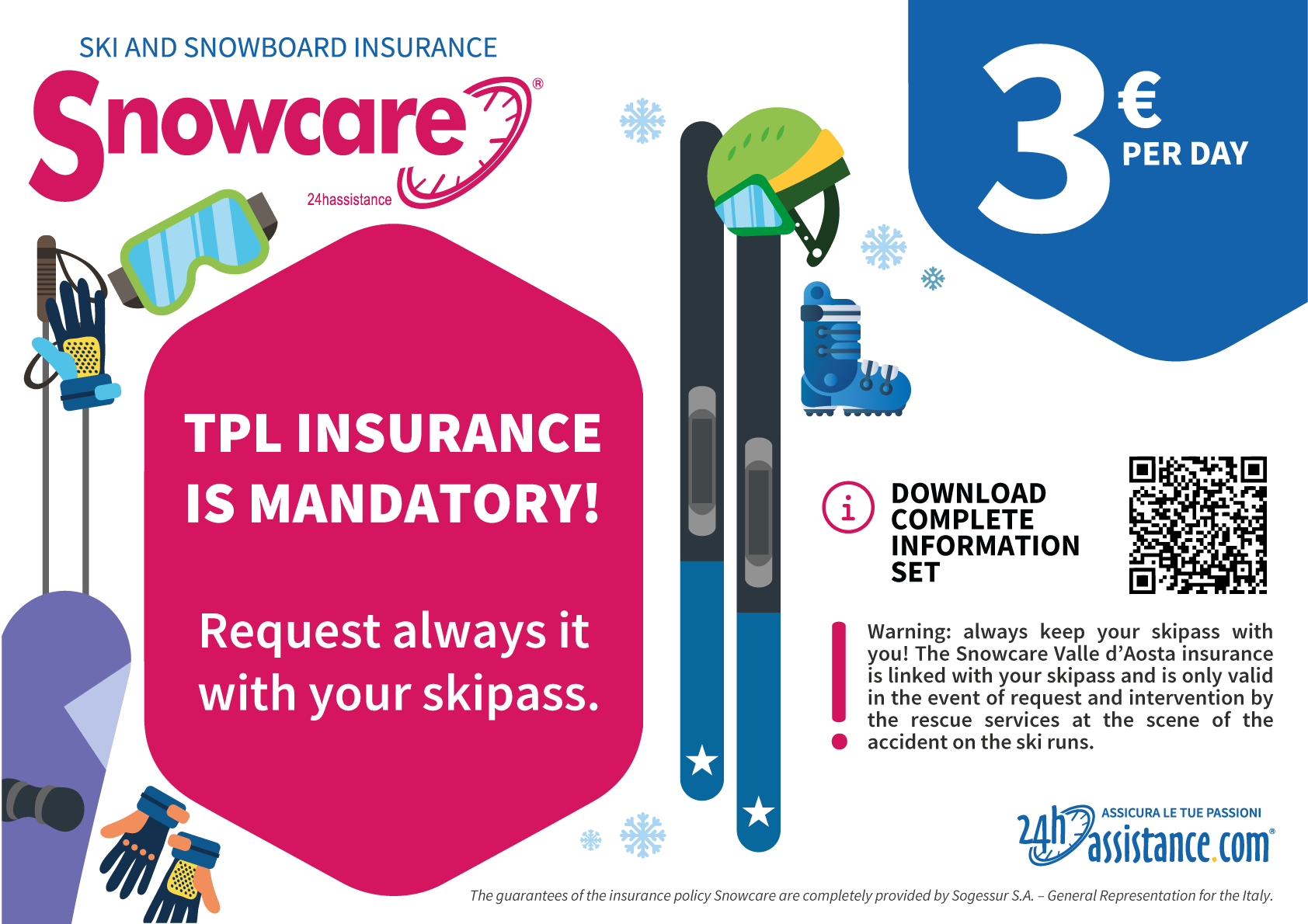 ---
All owners of regional multi-days consecutive skipass from 6 days, can ski, within the validity period of their skipass, in the 4 VALLEES swiss ski resort (Verbier, Nendaz, Veysonnaz, Thyon, La Tzoumaz, Bruson) where on presentation of the skipass at the ticket office, they will get a 50% discount on the daily pass.
---
Owners of a regional consecutive multi-day pass of at least 5 days duration are entitled to FREE USE of the offer "AFTER SKI". For more information see "Advantages and services" page.
---
Rates may be adjusted in the event of special measures concerning taxation or exchange rate.