An Italian excellence on the roof of Europe.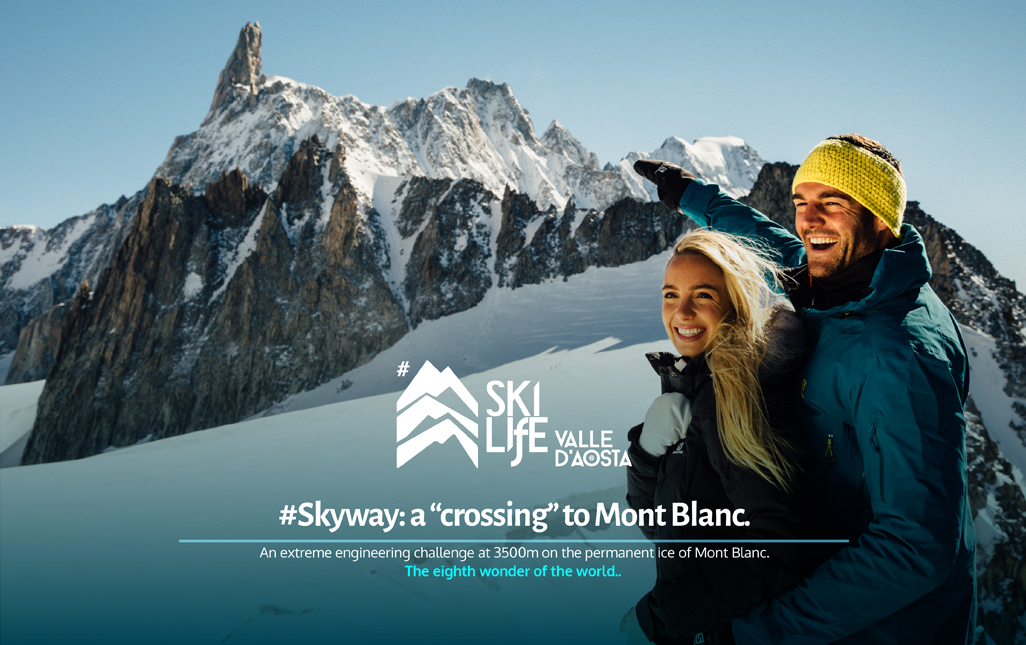 This is the realisation of a dream: to ensure everyone can enjoy a wonderful experience that would never have been possible without technology. Nature provides the beauty while humans offer their ingenuity for all to admire. The ascent begins in Courmayeur at the station of Pontal d'Entrèves (at 1300 metres above sea level), has an intermediate station at 2200m at Pavillon du Mont Fréty and arrives at Punta Helbronner (3466m). The three stations of the cable car are built in glass and steel to ensure maximum protection and visibility while blending harmoniously into the surrounding landscape. Services offered to tourists include bars, sun decks and, of course, the stunning panorama. The cable cars revolve during the entire ascent to allow passengers a complete view of the surrounding peak. On arrival at Punta Helbronner (3466m), a large circular 14 metre diameter panoramic terrace provides a breathtaking 360° view of most the "Four Thousanders" of the Western Alps: Mont Blanc, Monte Rosa, the Matterhorn, Gran Paradiso and Grand Combin. Inside can be found a display of the crystals of Mont Blanc, a self-service restaurant, a bar and multimedia information points. In the summer it is also possible to continue from Punta Helbronner by taking the "Panoramic Mont-Blanc" cable car that glides over the Giant glacier and leads to the French station of Aiguille du Midi (3777m), from where it is possible to descend to Chamonix.
SkyWay in figures
Height difference – The two cable car sections involve a climb totalling about 2200 metres:
Departure station height: 1300m
Height at Punta Helbronner station: 3462m
Height at the panoramic terrace of the Glaciers at Punta Helbronner: 3466m
Travel time – The entire ascent takes approximately 10 minutes:
Pontal d'Entrèves – Pavillon du Mont Fréty: about 4 minutes
Pavillon du Mont Fréty – Punta Helbronner: about 5 minutes
Hourly passenger capacity: 800 people for the first section, 600 people for the second section.